Wazp and...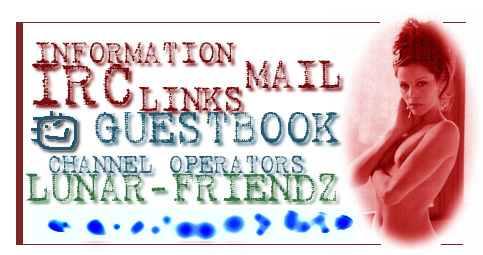 If the image-map above doesn't work, I suggest you get a newer version of your browser! Anyway, you can also find the links down 'ere:
info-irc-chan. op's-mail-friendz-links-guestbook
---
"#Kärlek - Där känslorna flödar" is a swedish IRC (Internet Relay Chat) channel, where we talk about everything between heaven and hell, but we sort of try to limit ourselves to "love". This is the channel to visit if you're desperate in love with another human, just feel that you need a hug, want to talk about your unrequired love, and so on. Everyone's friendly, so you don't need to be shy. No question about love is too dumb to be asked, remember that! =o)
And Hey! Remember, that you're always...
---
IRC is short for Internet Relay Chat. It's a place where thousand's of people can meet, and talk to each other in "real-time". It's originally based on the old program "Talk" (Anyone remember this one, huh?! =). Check out the URL below, where you can find much more information about the mysteries and phenomena of IRC...
http://www.kei.com/irc.html - Much more info about IRC.
mIRC Homepage - Where you can download the best IRC-client for PC ever.
MAC AND UNIX/LINUX USERS - Check out the first URL for links to ftp-sites containing IRC-clients to your computer! Amiga user's can check #AmigaSWE's homepage for more info on where to get an IRC-client.
---
Everyone who reguraly visits #Kärlek have the chance on getting OP's. If we see anyone who's there often, and we trust him/her, we give the person OP status. *BUT*, if this person does something bad, like mass-kicking or mass-deop, he's banned. Banned through time. 'Til the hell freezes over. Sort of... So watch out, folks! ;)
Anyway, there are some persons who *always* should get OP's when they come in, and theese are:
Patrick Waks (Wazp)
Lina Hansson (Lunargirl)
Pär Olsson (GZA)
Harald Paulsen (Faceman) - Thanks Harald for this URL-space! You're one-of-a-kind!
Mattias Carlsson (Eternal_E)
Gustaf Hederström (Lebola)
Sofia ??? (Pyret)
Yes, there you have them. If I forgot someone, please mail me the info!
---
Then mail us! Here follows the complete list of adresses to the OP's listed above:
Patrick Waks (Wazp) - Wazp@happy.paulsen.no
Lina Hansson (Lunargirl) - es94cah@egy.engelholm.se
Pär Olsson (GZA) - hp.gymn@ljusdal.se
Harald Paulsen (Faceman) - Harald@happy.paulsen.no
Mattias Carlsson (Eternal_E) - matt@one.se
Gustaf Hederström (Lebola) - hncab@algonet.se
If something's wrong, please mail me the info!
---
Yes, there are some other people who also visits our dear channel. A complete list is almost impossible to create, but here's a good try... (No special order though, I'm too lazy for that sort of stuff... =)
Glenn Björckén (XT600) - Mail
Monika Johansson (Moniac) - Mail
Richard Nilsson (Nisseman) - Mail
Mattias Nord (Im-Pose) - Mail
Henrik Andersson (FordPerfe) - Mail
Andreas Larsson (Sub-Zero) - Mail

Have I forgotten someone? Send me a mail with your real name, nickname on IRC, e-mail adress, and your URL! At least your real name and your IRC-nick. Without that information I won't put you on this page. ALTERNATIVE: Give me a "/msg Wazp Hey, can you put me on #Kärlek's homepage?!" on IRC.
---
The guestbook to this page isn't ready for the moment. So until I've got it to work as it's supposed to do, you'll just have to settle with the nice picture below... =o)

Last updated: 1996-09-11
---
---
---
---

wazp@happy.paulsen.no
---

Patrick's Homepage...
---
---
---
---
All text on this page is (c) Copyright 1996 Patrick Waks. All graphics (c) Copyright 1996 EboDEZIGN.

danster@academy.bastad.se